Puppy Plays will gladly exchange, credit or refund your purchase of any
Puppy Plays merchandise purchased at www.puppyplays.com if returned
within 30 days of the shipping date, excluding Shipping & Handling
charges. To return by mail, please send prepaid via UPS or insured USPS.
Be sure to include your name and address on the label (we will not
accept any packages without a return name and address). Allow 2 weeks
for processing. DVD, video, audio, software media and electronics must
be returned in their original, unopened packaging (damaged or defective
DVD, video, audio, software media and electronics may be exchanged for
the same merchandise only).
Returns with Gift Receipts
You will receive a full refund in the form of a merchandise credit.
Send returns and exchanges to:
Puppy Plays, LLC
555 Barrington Ave. #101
Los Angeles, CA 90049
Should you wish to return and/or exchange for new merchandise, please
follow our instructions below:
To prepare your return:
Make a copy of your packing slip for your records.

Please use the original packaging or a strong corrugated carton.

To expedite your return/exchange, please insert the packing slip,
remembering to keep the return label printed on the front for shipping.

Pack and tape your package securely.

Affix the return shipping label.

For tracking purposes, it is important that you ship your package via
United Parcel Service (UPS) or insured Parcel Post. (We cannot accept
C.O.D.)

Return policy is subject to change without notice.
Ollie imagines a world full of puppies....now you can too!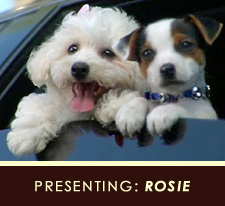 Ride along with Rosie and Squeaky to the next adorable puppy adventure!